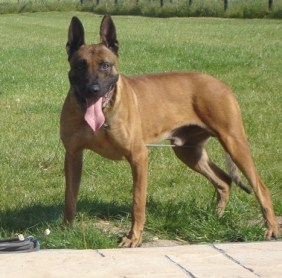 Plan your next breeding to one of these Top Producing KNPV Stud Dogs listed below!
Here at Younghaus Working Dogs, we have completed the leg work for you and have gone through the expense to gather
semen collections from the Finest KNPV Working Dogs in the World.
Now you have access to breeding directly to the Top Producing  KNPV dogs from Europe.  Being able to have these dogs in the
1st generation of your pedigree will immediately bring much strength to any breeding program.  Transferring of these collections are very simple.  Once you purchase the desired amount of straws from Younghaus Working Dogs, we then complete the Transfer of Ownership Form to your name and email it to ICSB Oregon.  ICSB will then contact you and have you open up an account with them.   The straws will then be stored under your account name where you will have it ready for use prior to breeding.  Availability and Price will be based on when straws are purchased.   Keep in mind some of these dogs I have collections from are no longer living,  or to old to reproduce, so once they are all sold they will no longer be available anywhere in the world.
Please Contact us for Semen Purchase
Don't wait till its too late.  Invest now for best prices and secure your Future
CALL  808 987-6764
ted@younghaus.com
Recommended 2 straws Per breeding for Rico Vergossen.  Rico Vergossen is Deceased.
Sire: Rico Hendrikx x Dam: Tessa Hendrikx
BRN 17064
DOB:  March 15, 2007,  (Deceased)
Rico Vergossen is without doubt, one of the strongest dogs in the KNPV world today. Rico Vergossen has extreme drives super strong nerves, a monster in Bite work with hard and full grips. He is known thought Europe and the world for his hard, extremely high driven character.  Rico stands about 67 cms high and weighs 42-45 kgs. The type of dog to handle with respect.  Rico is a social dog but dominant with a lot of courage.
The combination that Rico comes from is also known as one of the best ever.
His bloodline is a strong linebreed Duco 2 Seegers, a combination that has been repeated 5 times because of the super dogs this combination reproduced, see for instance Rico (previous, John ter Lindert), Jochie (Chris Race, USA) and Kwinto Doelen.   Becuase of the strong linebreed he's capable of reproducing his character and drives in a very dominant way like his offspring provides.  Hips/Elbows/Back x-rayed Good.
A Very Special Thanks to Ed Vergossen for allowing us this opportunity to use Rico's bloodline in our
breeding program.
PLEASE CONSULT WITH US FOR HIS PRICE. Mahalo!