Sunday, April 07, 2019
Hi Ted:
I want to thank you for our Malinois, Varg (Ivo x Ebee 04.21.17), who will be turning 2 years old in two weeks. He is an absolute pleasure to own and work.
Varg is obedience trained and we are now engaged in protection work. (Kudos to Bill Woodard for the professional assistance)  Ever since he was an eight week old puppy, he has displayed incredible prey and food drive. This drive has made his training much easier than I anticipated. Now at 80 lbs., his bite work is great—hard hitting and tenacious. He is an unbelievably athletic dog…there is just no such thing as half way with him. From chasing a ball to working with our agitator it's all 100% effort.
Despite his drive and naturally protective instinct he has a wonderful temperament; loves everyone in the family…especially the grandchildren. I've included a picture of him below.
So once again, thank you, Ted.
Sincerely,
Randy Weir
Kapaa, Hawaii
~~~~~~~~~~~~~~~~~~~~~~~~~~~~~~~~~~~~~~~~~~~~~~~~~~~~~~~~~~~~~~~~~~~~~~~~~~~~~~~~~~~~~~~~~~~
When we imported Grace from the Netherlands, we knew we had found a very special dog, bred top and bottom with Jary Berghorst, and the dogs who preceded him. As Jary was deceased, returning to the original sire was an impossibility; until we met Ted Young. Our purchase of the last remaining stocks of Jary's semen was the best thing we could have ever done! We gave our pups the prepotency and balance that only the original sire could have done, according to Brackett's formula.
("Let the sire of the sire become the grand sire on the dam's side")
We experienced first hand the mental rush of risk vs. reward; and we were well aware that we might achieve nothing, however, we were also well aware that for us the reward far outweighed the risk. More specifically, unlike most of Ted's collections, Jary was at a very late stage of life when he was collected, and therefore had a very diminished sperm count.  Ted was very straightforward and honest in his description of the quality of Jary's semen, and provided laboratory testing results and specifics before we chose to go forward.  Simply put, whereas Ted has personally achieved record setting numbers of puppies
from frozen insemination's, twice, (17!) he explained that to achieve even a small litter would be nothing short of a miracle.  Of course, we chose to go forward, and simply mitigated as much risk as is possible, by performing every possible pre-mission precaution.  Full DNA testing, proper preparation of the female, accurate progesterone and LH level testing, and an understanding with our theriogenologist that he would be standing by. It surely was a white knuckle event, but I can promise that there is nothing else quite like having 3 generation linebred Jary Berghorst puppies in our kennel, 3 of the best pups we have ever seen!
Ted, your contribution has not only helped us; it has helped the world. Our young and upcoming sires will pass deeply the traits of Jary on to their offspring all over the world, due to their genetic excellence and line bred prepotency. Without Younghaus, this would never have been possible!
Rich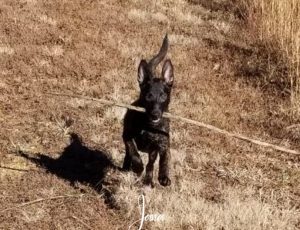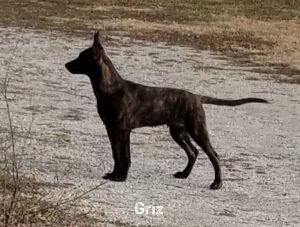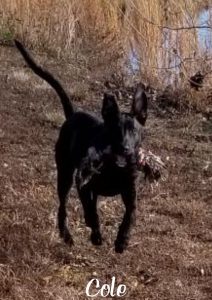 ~~~~~~~~~~~~~~~~~~~~~~~~~~~~~~~~~~~~~~~~~~~~~~~~~~~~~~~~~~~~~~~~`
Oct. 10, 2017
Aloha Ted,
I'm sending a few pix of Pahili (Cody II x Iggy).
We are having a blast with him – lots of energy, very smart, and bonding really well with.
I've taken him a couple of times to a friend's back yard agility course & his favorite was the tunnel with a sleeve. He'll try just about anything & is very focused when he gets his mind set on something.
He's learned lots of basic commands that we've taught (plus a few things we didn't teach, like it only took him about a week to figure out how to open the sliding screen door in one swipe, then had the gate latch figured out last week, so we keep adding layers of security to his play yard). Once he gets his 3rd set of shots next week we're looking forward to getting him out a lot more to work on obedience with more distractions.
Our 5-year old belgium, Heidi, has been a great big Sis – very patient most of the time and likes the company.
Thanks again for a great pup. We'll keep you posted as he progresses (& grows into those big ears & feet!)
-Marian Z.
~~~~~~~~~~~~~~~~~~~~~~~~~~~~~~~~~~~~~~~~~~~~~~~~~~~~~~
August 17, 2017
Aloha Ted,
Hope all is going well! I just thought I'd let you know that Havoc (Ivo Iedema x Ebee van Younghaus) is doing awesome and is full of confidence. He is 16 weeks and 45 lbs, he is going to be a monster. The trainer we are using here on Oahu says out of all the years he has been doing protection work he has never had a dog so young hit so hard and show so much potential. Mahalo on placing me with this pup I couldn't ask for a better companion.
Travis B.
C, NRP, FP-C, TP-C
Aloha Ted                                                                                                 May 29,2016
Hachi (Cody II x Nalu) has just turned 9 months. Weighing in at a lean 68lbs. he is quick and agile. He seems fearless, and is confident in any task. He has been eager to train since we received him at eight weeks of age. Quick to learn Hachi unfailingly performs all learned and new jobs. If there has been any failing of his training it would be attributed to my shortcomings and not his. He is strong on the trail, high jumping and scaling rock faces. Hachi is also an outstanding and confident rough water swimmer. He fearlessly challenges the shore break here on the north shore of Oahu. He has trained to rescue and return swimmers to the beach.  Hachi has become my constant and attentive companion and does not let me leave his sight. He is protective of my family and property and is a credible watch dog. He works well both on and off the leash. He is also well socialized with people,other dogs, cats(they helped trained him) and chickens( took a little more training). Despite his size, strength and energy he can be a "cruiser" and enjoys being handled and takes big hugs from admirers. Hachi has a lot of dimension.
Ted I absolutely love this dog. I had high expectations of the Malinois which have proven to be surpassed by this fine animal from Younghaus Working Dogs. Mahalo for matching me up with Hachi.
Porter Turnbull,D.C.
Sunset Beach
" I took a chance with Ted, after all Hawaii is not well known to have top quality European working dogs let alone Dutch Shepherds. I am glad I took that chance. Very pleased with my Dutchie. Ted has a ton of knowledge on his breed line, temperament and had many years of experience training dogs. You have to make sure you are suitable for this breed and if you are not Ted will tell you – it takes a load of commitment and dedication to own these breeds. Make sure you are ready."
Y.
California
May 5, 2016
Hi Ted,
This is Martis from Baltimore.  Just an update on Duke who is now 22 months.
I Really Love Duke ( Ranger x Nalu) .  He has grown to be an outstanding dog.
His Protection work is Super with good Aggression, guards and grips.  Obedience is Great from when he was a little puppy as you can see through the videos i sent you.   He is currently working on his Tracking.
He is great with my Kids and is a strong protector of my family.  I had refered a couple individuals to you because they loved what they saw in Duke and wanted a dog just like Him.
Thank You!
Martis
Baltimore, Maryland
Aloha Ted,
I wanted to be sure to contact you so I could provide an update of our pup Kileona or "Kili" from the Younghaus 'K' litter sired by Cody II out of Nalu, Aug.28, 2015.  We are very impressed with the quality of your dogs, their inherent intelligence and work ethic. You have truly beautiful Belgian Malinois and Dutch Sheperds, and it is clear that you are devoted to providing excellent training.
We have a 5yr. Belgian Malinois, "Mele" and wanted another dog to serve as family member, a companion for her, as well as home protection around our property.  We got that and more!
Kill is amazing!!  He is now 7 mos. old and hands down the best dog I have ever owned. He is absolutely stunning in looks and extremely intelligent. I have never had a dog that was so quick to learn, so intelligent and so loyal.
Since we do not live on Big Island, I took your suggestion to follow up with trainer Scott Sanchez here on Maui.  I believe he incorporates the same dedication to these beautiful dogs as yourself, and Kili thrives on the learning and lessons.  He works off leash, learning obedience, positioning, recall, and various commands that we incorporate into our daily routines at home, working with my horses and every other aspect where obedience is appreciated. He is very quick to learn, and has excellent ball drive which we utilize to facilitate his training, and he thinks of it as all play!  He is very loyal, and constantly keeps me in his sight.  We are now working on jumping obstacles by command and he loves it. I look forward to advancing his training as much as possible as he takes it in stride, truly excels and it is so rewarding!  Also along the line of protection, the combination of Kili and Mele makes for a formidable watchdog presence around our property!
I just wanted to share the accomplishments and pleasure your pup has brought us. Thank you Ted, we'll keep you posted!!
Aloha,
Peg N.
1/23/2016
Gypsy van Younghaus (Sadie)
I contacted Ted at Van younghaus in search for the perfect working / breeding female for my program. Ted matched me up with the perfect female not only for my needs but one that would complement my male. His knowledge of the breed and his training is up there with the best. Ted is a honest man. You need not worry about a run around with Ted.  What you see is what you get. My family and will have no problem buying from Van younghaus in the near future.
Nathan K.
Nevada
"My 3 month old named Porter (Storm x Ebee)  is already more than I could have ever asked for.  He is easy to train and eager to please.  A few days a week he is dog sat by a family with a 2 year old son and he is as gentle as can be; you'd think he was a golden retriever.  While he is outgoing and friendly, he also protects the house instinctually.  He can sense when something is different or I am uneasy and quickly makes his presence known to whatever is on his turf (or what he thinks is his turf).  He is the perfect balance between a fun companion and a vigilant protector.  Ted has been wonderful to work with and was sure to call to make sure Porter did well on the flight.  I would recommend a Younghaus Working Dogs to anyone looking for a protection/companion animal."
Jess G.
Oahu
10/26/2013
Mabuhay from The Philippines,As I write this mowgli  (rico vergossen x brownie) is  aying at my feet sleeping .  He is everything we wanted in a protector and companion .The import process was a pain and terribly taxing on all involved but was worth
it totally when I saw mowgli simply put, this dog is everything that was
promised and more Younghaus is NO JOKE, this dog has been here three days almost
and we attempted basic obedience training at a local training center, he blew away
the whole curriculum in basically a day it was designed to be a six week program.
Drive, nerves,mentality,health its all there, it is a complete package right
down to the appearance a malinois coat with subtle hints of Dutch Shepherd from
Brownie this dog is stunning and a credit to his breed and breeder.
I have every intent of matching this dog to another Younghaus Dutch Shepherd
bitch so I will purchase again because you just cant get this kind of quality
here.
Quality with this kennel is above reproach Ted is first class and so is his
operation.
At a little over 4 months of age this pup has GREAT eye contact, devloped a
stellar heel among other things, its plainly obvious this dog was
pain stakingly worked, within less than 72 hours I have bonded extremely well
with this dog.  I have been around military grade working dogs as well as many
similar kinds of Shepherd dogs, this dog is on another level.
I may be biased but if you whether you want working grade or just a pet this is
the place.
Thanks for everything Ted.
Mahalo and salamat sir,
Taylor
Sept. 26, 2013
Aloha Ted,
Words cant express how happy I am with my Dutch Shepherd. I know that the
requirements that I needed in a dog for my family were high. Upon speaking with
others, I was told that it is difficult to find a dog that has
"everything". I needed a dog that has the drive and potential ability
to protect my family yet have a calm and even temperament around them, a dog
with solid nerves and always on alert. When I finally received a call from you,
stating that you think you found the pup for me, I couldn't wait to meet him.
My Dutchie has exceeded all my expectations! Training with him is such a joy,
he's always eager to train and he's so intelligent! Not to mention he is one
stunning looking Dutch Shepherd with solid structure. Thank you so much for
seriously considering my needs in a pup, and exceeding my expectations. I've
known a few breeders here in Hawaii and have never met one that puts so much
time and dedication into making the perfect working dog!
Thanks Again,
Brandon Rodrigues
Kihei, Maui
February 12, 2012
Hello Ted,
Just writing to let you and other people know about how pleased we are with the purchase and importation into Australia of our new pup Chevy , (16 week old Male pup from a Storm an Nalu repeat breeding ) .  In the short time  Chevy has has been here with us we have seen fantastic nerves , nothing bothers him at all , he will chase a tug on a slippery tiled sufrace , run up an down stairs like an adult , stays  focused on me with great ditsractions from other dogs and loud noises ,  he has great  drive for food and will hunt endlessly for a treat .  I could go on and on about how great I think this pup is , everything I see in him leads me to say that he will be an awesome dog when he matures.  A pup must have to have extremely good nerves to have to go through the long flight times and quarantine processes that Chevy had to do to come into Australia and not have any of his drives flattened throughout this ordeal.  Well let me tell you Ted, anybody else who wishes to purchase the Dutch Shepherds you are breeding, that they will be very very happy with what they get as we are extremely happy.  Chevy has everything and more that you would wish for from a good KNPV  breed Dutch Shepherd and to back this statement up while Chevy was doing his time in Sydneys Eastern Creek Quarantine station we had Craig Murray a Sydney based trainer who trains with and supplies dogs to the Australian defence forces attend the station on four occasions to test Chevy for us.  Craig was extremely happy with what he saw in Chevy and has told us that he ticked every box . His nerves are extremely good and his drives are as good as it gets .  Thanks Craig and thank you Ted, everything you did for us to make this happen was very easy and it has been a pleasure doing business with you.  We will definitely be purchasing another pup from you in the future.
Kind Regards,
Trevor Williams
Queensland Australia
June 2, 2011
Hi Ted
I would like to thank you for the Dutch Shepherd pup (Storm x Nalu). It is apparent that
you started their training at an early age. I have been training dogs for police
and personal protection for 40 years. I am an Master Trainer/ Accreditation
Chairman for the American Police Canine Association and I have certified
hundreds of dogs. I really believe this pup will turn out to be the best police
service dog that I ever had. At 11 weeks old he is running a track of about 100+
yards. He is very attentive and climbs stairs like an adult. I will be competing
and certifying him before he reaches adulthood. I will keep you posted of his
progress.
Thank you,
Bob Lewis
Master Trainer/Accreditation Chairman/ American Police Canine Association
March 22, 2011
Hi Ted,
Did I ever send you a testimonial?  Now that I think about it maybe not.  This is certainly overdue!
I want to share with everyone in your training classes the challenges and rewards of Schutzhund Sport.  I have the awesome privilege of owning one of your German Shepherds, Gili Misha VomYounghaus (Prandy Von Der Lobach xPrada Vom Younghaus) and training with you for the last 5 and a half years.  Schutzhund teaches the importance of being patient, forgiving, tolerant, and nonetheless humble.   The bond that is created between you and your dog is forever.  It is a constant learning experience; your dog is an intelligent living being that has a mind of its own.  Even though you may spend months or even years training, learning never stops.  It evolves.  Schutzhund pushes you to do this.  As you and your dog progress in the sport, their ability to react and respond to different situations and challenges also grows.
Misha and I started Schutzhund back in March of 2005 when she was four months old, and have not stopped, she in now six.  Since then she has earned her BH (17 months old), Sch1 (2 ½ yrs old), Sch2 (3 ½ yrs old), Sch3 (4 ½ yrs old) Sch3 (5 ½ yrs old).  We are currently training for another Schutzhund 3 title.  There is always some aspect of this sport to improve upon.  As long as your dog keeps giving you its best, you should too!!  The camaraderie with fellow schutzhunder's (is that a word??) is equally rewarding.  Everyone is committed to their dog, and support each other's efforts.  The best part though is having a trainer who is equally or even more committed in seeing that you and your dog succeed.  Ted's training is very unique.  He uses many training methods to achieve results.  He is patient and tolerant with people who at times may need more training than the dog!!  So come out and see how exciting Schutzhund can be!!
Looking forward to many more years!!
Michelle Querobin-Licus  and Misha Vom Younghaus
Hi Ted,
Well I have to say it couldn't have gone any better if I had told the pup what to do. EVERYONE loved her. The flying didn't phase her at all. When I got her from baggage she was happy and ready to play.
We headed up to Kahuku which is our training site. She met everyone and explored everything. She climbed in all the tubes she could get to and climbed on everything that she could reach. We even did a runaway with someone she just met and she ran right to him, on a bus no less.
She walked on the huge rock pile we have, carefully picking her way across it. Very confident in her steps.  We went to a friends house and she played in their yard with a 9 yr old border collie, tugging with her and also tugging with toys with 3 different people.
The next day we went for a walk in Honolulu. She was a little cautious here so when I saw she had had enough I just carried her the rest of the way.  We sat out side at Starbucks and she just sat in my lap looking at everybody going by. Not a care in the world. We then headed over to State Civil Defense and she got to meet and play with 4 of the office ladies. They again LOVED her. She was so cute, she would run to one of them, climb in their lap, then take off to someone else. She did this for about 1/2 hour. She did have the maligator snap going on so I had to make sure they watched for that. She explored everywhere we allowed her to go.
The Vice Director got to meet her and while we sat and talked to him she just layed in my lap and fell asleep. Everyone was asking me what her name was. Well the Vice Director came up with a nice one. Ka' imi. So now she has a name:-))
We then had to go to another meeting with all the heads of Search and Rescue from all the islands. I put Ka'imi in her crate in the room with us and she either slept or just chewed on her bone for 3 hrs. They were all highly impressed.
After that we had to get ready to fly back so I took her to a park to walk her around. She had to go up a big flight of stairs and pass 3 big guys. No problem. She walked the park like she owned it. Again jumping up on everything that was her height. She even went on a huge grate that was covering a 20 ft. hole. It didn't even phase her at all.
When we got home, again the flight didn't bother her, I took my suitcase out of the car to bring it in the house and she thought it would be a good thing to attack. She grabbed it hard and pulled and tried to shake it.
She was still full of energy!!!!!!
So as you can see it was a GREAT two days. She was exposed to so much but nothing bothered her. EVERYONE  can't wait for me to bring her back.
Teress
Aloha Ted,
I love my little Dutch Shepherd pup I picked up. You and your family did an awesome job raising her for the first
10 wks of her life. She is afraid of nothing. She already has walked across my pallet pile, has been on slippery
surfaces as well as unsteady surfaces and goes into dark places with no problem. She does everything I ask
her to do. Her beginning obedience is amazing at such a young age. She is so focused on me. I love the fact
that she has great food and prey drive. It makes training her so easy. I am very confident she will be an
excellent Search and Rescue partner for me. Thanks again for such an awesome pup.
Teresa Gajate
Aloha Alpha K-9
Just wanted to thank you both, again, for Kauila ( W litter Carly X Ness) and the obedience class.
I took her out last night and had her run, stop on a dime, run then slow down, sharp right turns,
left turns, sit, stay…it was fantastic.  I did not have to pop her once and it
felt like she became an attachment at my knee.
Gia was able to walk her, too.  We had FUN!
I am looking forward George coming home, so he can bring her to Caleb's football practice,
and Gia and I can walk her there.  Thank you so much…you have brought JOY into our doggie life.
A hui hou,
Dorinna.
Hilo, 11-19-08
I saw on your website that you have some other pups coming soon. You are gonna have your hands full!!  That is so cute of you to mention her beautiful tail. (Hazzie Aussie Puppy)I love their happy full wagging tails. Thank You for your response and kindness to her eager mother!! I will have great things to share on your website about your business and what a great attitude you have towards your customers! As you know, deciding to bring a dog into your care is a big decision. However the joy that they bring is priceless. Can't wait to see her. Thanks again!
Alicia
Just a note to let you know, "Stella" is wonderful.(U litter Terra x Ness)
She is a great dog and we enjoy her so much.  We have decided not  to
breed but instead will just enjoy her.  But when we decide we want another German
Shepherd to our family we know where we will go and that is to you. Thank you.
She is worth every bit of what we paid for her and more.
The Tollefsons, Hilo 10-22-08
Thunder got here safe and sound.  He is just as great so far as you said he
would be!  From the very moment I picked him up I knew that I had made the
right decision.  He is seeming to adapt well to my house and is extremely
easy going.  He is, of course, acting as a puppy… happy and explorative.
We went out to the park, and he carried a tennis ball in his mouth for the
whole walk.. met another young dog in the park, played a little, and is
now sleeping right next to his crate.  All in all, I am very impressed!
1-24-2008
I thought you all would like to know that every time Thunder and
I go for a walk, he turns heads with everyone.  People are
constantly talking about how handsome and sharp he looks.  They
always comment about how strong and well-bred he looks.  I tend to
agree with all of their assessments.  He really has been a true
blessing.  I gladly tell everyone they should look to Alpha K-9 if
they are looking for a great GSD.
2-13-2008
B. Crawford,  J 1LT MIL USA
We just wanted to take a minute to thank you for the excellent care Penny received during her
3 week stay with you.  Although she's young at heart and energetic, she is 13 and we worried
about leaving her.  We realize she is a special needs dog with all her medications and
special feeding instructions and needing a sweater at night, but you guys handled it like
champs, especially during a busy holiday time.  Thank you so much for keeping a daily log
of her activities.  It helped to assure us she was getting the attention and focus she
needed while her parents where away.  I appreciate your prompt email responses to me
keeping me updated on how she was doing.  We missed her (unavoidable) but did not
worry about her.  We will bring her back when we travel in the future.
Thanks again,
Jan, DeAnna and Penny.
I just wanted to share a picture of our two beauties Saigon and Kanani. Saigon is a special girl she has been Daddy's girl from day one.  She joined this family after being loved and cared for from you and your family for her first 4 yrs. of life.   We invited her into our home not knowing what to think.
She must have known right away we didn't need her but we wanted her as apart of our family.  She came right into her new home and excepted the change the cats the children running around Mommy going crazy and Daddy in and out.  I must say I had doubt at first bring an older dog into the home.  If there is any doubt in anyone's mind about taking in one if your older dogs, I can only say do it!  She has been so full of Love and dedication not to mention completely trained.
We have had her 4 years now and she is truly this families best friend.  We enjoyed her so much we knew we wanted another one and that's when we saw the face we loved and new right away she was the one. Kanani, Now she is Mommy's girl. I thought oh no we never went threw the whole puppy training thing, but I must tell you it was like she was never a puppy.
She never chewed a thing but this big big  big  bone bigger then she was she was given the day she got her with the help of her big sister.  Able to stay home with her made it easy to potty train every 20 mins we went outside and before going out I would go to the door and bark until she barked back. A few weeks of that and she was on her own going to the door and letting me know she had to go. Of course she would spend time in the kennel if we went somewhere and threw the night.  The funny thing is we have a lever on the door and the smart dog she is opens the door to let herself out now.  Kanani is a joy she keeps Saigon on her toes and keeps her young.
They are truly two gifts that keep giving year round. You and your family truly breed the finest dogs. They are beautiful, smart and just a joy . Living on a military base security has working dogs and every time they go by and we are outside they stop to tell me how  Beautiful they are and where did we get them. I'm proud to say your name out loud. I don't care where we are in this world as long as you are breeding and we are ready for another family addition Vomyounghaus is the McKinsey Family choice. Thankyou 🙂
Just short update on Cienna (Q litter Falko x Zango)@ 5 months she is 53# and very lean.
Still doing the same basic obedience, now with a running Platz and Steh both off and on leash.
We have been using the ball and giving a treat on the Brring and her drive for the toy is very high.  She is doing the intro bite things on the burlap sausage on the Packen command.  She knows the Aus for everything from the rocks she likes to the toy.  Still no tracking started at all.
She does all the obedience with Celia very well. We are just turning the corner with her jumping up on every greeting. I bring her into stores and everything generally goes very smooth, she wines and barks  when she sees little kids.  Still very excited with other dogs but plays after a good 15 minutes of posturing and heavy barking.  Shows extreme guarding potential around the house and always lets us know when someone is approaching.  Good contact with friends when she sees everything is calm Sleeps in the crate every night and is in it when we go out.
We'll send a photo over later.  Aloha, Scott, Paia Maui 7-2007
Just thought I would drop a line to let you know how the dogs are doing.  They are gorgeous animals and are behaving perfectly.  I am on ship until September and have been gone since June, but Estrella continues to work with the dogs.  She goes once a week to the military police kennel master to train them.  He was the kennel master for the entire department of defense before arriving in Hawaii.  He is very good and passionate about dog training.  He has helped us bring these dogs a long way towards our goal of having 2 schutzhund 3 animals.  He is confident that they will both make it though.  Phantom (Falko x Terra) is 90lbs at 7 months old.  He was just weighed.  Onyx (Prandy X Zoya) is a solid 60 at 8 months.  We feed them Solid Gold dog food and it keeps them very healthy and energetic.  They both have such a great protection instinct and it gives Estrella great peace of mind while I am gone.  They don't allow anyone to approach until we give them the ok.  They now sit perfectly with great form after a few pointers from the trainer and we are working grip with them as well.  All the military police dog handlers that have seen Phantom are amazed by how massive this dog is.  They know he is a puppy from looking at him, but can't believe his size.  Some have asked if he was part St Bernard.  I feel sorry for the person who has to wear the bite sleeve for him.  His bite is deep and extremely strong.  The trainer says his bite is deeper and stronger than most of the MP dogs in his kennel.  You would be proud of how these dogs are doing.  Let me know next time you guys are coming to town, as I am sure that you will realize what great animals we have and furthermore, keep peace of mind that they went to a loving and caring home.
Chris Carpenter
Kailua, Hawaii 7-25-2007′
What can we say except another great job once again from  ALPHA K-9.  (Vom Younghaus) This is now our 3rd. Family Dog from you. Starting in Hawaii with Kanani & Saigon (Dax x Zoya) and now Guam with Rain (Jago X Basia). These dogs are Good Tempered Healthy and just Fantastic Looking..  And when people ask where did they come from? We are proud to say from your Island to ours. With a WOW response.  Vance, Hunter , Logan and I  would like to say Thank You.
7-26-2007
Thanks for your email.  We are off to a great start, the plane ride went great with two very friendly attendants, Maile was able to hide on the seat between the kids and not be trapped under the seat.  We had some very positive feedback at the airport about your dogs and that was nice to hear.  We arrived and took her shopping at the Kennel shop for toys and again was asked about her and they knew your dogs as well.  Q litter (Falko x Zango)
It was scary going home, not sure what to expect, but it was amazing how unremarkable yet funny it was.  She clearly became Alpha dog with her presence, so we had to consider naming her Queen.  As she pranced around the house she clearly left the older two in aw… We had bought the all three new bones, but she decided to hide hers and then pranced up and literally stole the other one straight from the 72 lb dog and pranced away to eat it. When I took it back and gave it to him, she did it again.  The other two took to her immediately, although they don't always recognize their strength. When they went to play tug-a-war with the new toy, she ended up holding on and being dragged around the living room instead of actually playing tug-a-war, but to her credit she hung on long enough to win that toy.  When she figured out that the older ones were not allowed on her bed, she would take all the toys to her space and piled them up…so we'll have to work on the sharing thing. They all slept together last night, despite having separate beds, it was so cute, my daughter fell asleep in the middle of all of them.  We really love her already. The Rogers-Higa Family Oahu 5-2007
Thought I'd check back in, let you know that Maile is doing wonderful, she is an awesome addition to our home and we are so pleased. She is a feisty little one, full of lots of energy and keeping us on our toes…I thought our goldens were smart, but nothing gets passed her.
After long deliberation, we have decided to spay her…we never considered breeding her, but I am very concerned about surgery and more importantly her recovery time…she is so active, jumping everywhere, that I just cant see her resting to heal….but I know it's the responsible thing to do….
Anyway, just wanted to say thanks, will try to get some pictures over to you, she is just so beautiful, we are so happy.  My daughter saw that her sister is still with you and so very much wants to get her too….she keeps checking to see if she has found a home…I'm hoping (probably as much as you are) that she finds a home soon…peer pressure could give in and we finally have Maile house trained..  Thanks for everything.  Rogers-Higa Family 7-2007
(Q litter female Mouser.) She's already getting better with the cats!  She doesn't bark much at all anymore at them and just runs towards them a little.  She's Greg's little shadow.  We are building a house on our property and she follows him around all day long.  If he goes up on a ladder or walks away, she starts to cry.  Everyone who has met her is amazed at how well behaved she is.
Thanks again for such a great pup! Emily 5-2007 Hilo, Hawaii
We've been calling her "QueDee" (Falko x Zango, whelped 02-14-07) like cutie –
I would like to put QD Pea on her papers.
Ted and Laurel at Alpha 9 Kennels has helped me chose the right puppy.  I gave them a general description of what I wanted my future companion to be like and they started from the very beginning starting with picking the parents. Then they emailed me when the puppies where born – Valentines Day! I was feeling kind of down that day then found out my puppy was my Valentines gift. All of the puppies were watched closely – when I went to pick up my puppy Laurel went over the characteristics of each one down to the type of fur that would be good for house dog. I would most definitely get another puppy and tell everyone that wanted one to get it from Alpha K-9 Kennels.  Getting QD from you has been the most pleasurable experience I have ever had! I am in love with my sweet puppy – she is the perfect one for me. BJ Adkins  Kaaawa,Hawaii 4-18-07
It's me, Jodi Sasaki, owner of Koko (female shepherd, born April 1995).  I am going though some old documents and came across our original invoice for our first dog Gigi and thought to get in touch with you.  I wanted you to know that although 'an old lady', Koko continues to be a wonderful companion for our children and great security guard.  She has enriched our lives in ways that I never expected and as we move towards her golden years, enjoy her excitement, even though she has arthritis.
Wishing you a great day :)! Jodi 6-2007
Aloha, This is Leah Ketchum, I purchased a wonderful female puppy from your "M" litter (Basko x Zango vom Younghaus)  last year. I just wanted to send you a few pictures of her and tell you what a joy she is in our lives! She is such an amazing dog! Everyone who sees her mentions her beauty and even temperament. Thank you so much for your dedication to quality animals and for picking the perfect puppy for our family!  Mahalo, Leah and Jon Ketchum 2-2-07
I( Ed Engel-from Maui) purchased a GSD from you in 2004. A Female, Sable, born 6/6/04, from a "D" litter. I believe we spelled her name "Dodee".
The reason for this E:Mail is that I am unable to read her tattoo, and need this info to renew her dog license. So if you could please check your records and get back to me I would be most appreciative.
Just to let you know……Whitney(that's the name we chose to call her by) is the sweetest tempered, loving, and bar-none the most LOYAL dog ON THE PLANET!!!!!  That is; to all our family members, and other pets.  However; she is very protective of her family and our property.  When I'm home, she is my shadow, otherwise she shadows my wife, and if she's not home, she follows my Mother-In-Law around. She's REALLY smart; you can actually see it in her eyes when she is figuring things out. She always minds, is very active, and of course……………is ALWAYS so happy and overjoyed when anyone of us returns home; even if we've only been gone a short while.  She also enjoys giving doggie kisses to any and all who will let her.  And I say that dog saliva is better than any medicine, doctor, or shrink!
Thank You Ed!  2-1-07
I( Ed Engel-from Maui) purchased a GSD from you in 2004. A Female, Sable, born 6/6/04, from a "D" litter. I believe we spelled her name "Dodee".
The reason for this E:Mail is that I am unable to read her tattoo, and need this info to renew her dog license. So if you could please check your records and get back to me I would be most appreciative.
Just to let you know……Whitney(that's the name we chose to call her by) is the sweetest tempered, loving, and bar-none the most LOYAL dog ON THE PLANET!!!!!  That is; to all our family members, and other pets.  However; she is very protective of her family and our property.  When I'm home, she is my shadow, otherwise she shadows my wife, and if she's not home, she follows my Mother-In-Law around. She's REALLY smart; you can actually see it in her eyes when she is figuring things out. She always minds, is very active, and of course……………is ALWAYS so happy and overjoyed when anyone of us returns home; even if we've only been gone a short while.  She also enjoys giving doggie kisses to any and all who will let her.  And I say that dog saliva is better than any medicine, doctor, or shrink!
Thank You Ed!  2-1-07
Thanks for sending Onex (Prandy and Zoya 2006) to us; she is perfect for our family.  She is also the smartest most trainable dog I have ever seen.  She slept through the first night, waking us up only once to take her out.  She never cried in her crate.  The second night, she woke us up twice.  So, she was waking us up to take her out since the first night home.  After the the second night, she has slept all the through every night without incident.  I attribute this to the breeding conditions and prep work done in advance of sending her here.  I really think separating them at 7 weeks was the key to her succesfully blending in perfectly on her first night.  In her first 2 weeks, she has learned to eliminate on command, come when called, sit, lay down, and sit before entering or exiting doors.  She is a breeze to train.  Her prey drive is crazy too.  She stalks my wife and me constantly.  She chases everything in sight with enthusiasm.  As soon as we finish her shots, we are joining a Schutzhund club in order to bring her to her full potential.  We can't wait to get Phantom from the "P" litter.  I know you will put in the same work to have him fit in just as nicely as Onex.  A friend came over the other day after he just bought a dog a couple of days before.  After seeing Onex, he returned the dog and will be purchasing a dog from the "P" litter as well.  Once he saw her crouch down and stalk me, then lunge at me when I ran at her, he made up his mind.  Most 8 week old puppies wouldn't have that kind of drive.  Thanks for a companion who will be with us for years.  You may use me as a reference if you would like.  I would gladly speak with anyone concerning my experience with Vom Younghaus.
Aloha, Chris Carpenter 1-25-07
Merry Christmas.  Well we finally got around to taking a family picture including all of the "furry" children and Niko(Jago and Basia 2006) came just in time.  As you can see he was still a baby. Now Niko is more like a teenager and going through his awkward stage but still very cute and loveable.  We have been very blessed by having him.  He has all of the qualities I wanted. (Thanks for picking the right dog for our family, again).  He's mellow and very easy to train.  The one thing that I did not expect was Sasha (Dax and Zoya 2002) to change.  Now she has mellowed a lot and taken on a motherly role with him.  Even trying to disipline him at times.  It's Wonderful.  Again, I have nothing but GOOD things about your folks and your dogs.  I am happy and very blessed to have both Sasha and Niko as part of our family.  Love,  The Gomes Family Maui 2006
Hi.  My wife and I bought a female GSD from you less than a month ago.  We are both so very pleased with the dog.  She is a real blessing.  She is strong, good drive and already
showing a high level of intelligence at only four months.  We also have a 8 month Belgian.
I am interested in taking classes so that I may better train both my dogs.   I do not know if you offer this type of training.  I have only recently discovered schutzhund and I am very interested in learning to work with my dogs to their full potential.  If there are any available classes, like I have described, I would be very interested in attending.  I would like to know prices for something like this and how I can get started in this wonderful sport with my dogs.
Also when is the next available board and train date and how much would the total cost be for one dog for 28 days?
Any and all information you would be willing to give is most appreciated.  Thank you once again for the wonderful puppy. Layla Vom Younghaus is a remarkable animal and quickly taking my heart.
stan matlock 07-14-06
Just thought I'd let you know that Sheba…09/07/03…(Ahron Vom Emsbogen x Hualani's Dragon Lady) just got her AKC Novice Rally Title… I'm so proud of her. We worked hard and it paid off. She sure taught me a lot about training GSD's. From now on everything is easy street.. What a Great dog.. She's fun, smart, raskel, willing to please, high drive, protective and good looking to boot. Everything you'd want in a GSD… Thanks to Vom Younghaus Kennels  I've got a great dog. I'll keep you posted on her advanced titles.. Mahalo and aloha to Ted….. ta ta Patty Holbrook/Maui, Hi. 06-22-06
We currently own Sir Wolf Vom Younghaus who will be turning 9 years old on June 16. We adopted him when he was 1 years of age from a gentleman who could not care for him, due to an extremely hectic work schedule. Wolf is the absolute best companion we have ever had and we are interested in adopting another black GSD. Wolf has an outstanding disposition, temperament and is just an unbelievably loveable dog. Can you please let us know if there are any plans for another litter that includes all black GSD puppies? If so, when do you expect the litter? We are interested in another male.
Any information you can provide is greatly appreciated. Amy and Dan Urban
Sellersville, PA  05-03-06
I want to thank you guys for the best dog we have ever owned.  We get compliments where ever we go.  Vi Stryder vom Younghaus (Wolfman X Fullhouse) is our best friend and watch dog.  He was always a smart dog, but your 28 day boarding and training program really made all of the difference.  He now listens when we give him a command on the first command.  He does not jump on me, the family and our guests.  I can walk him calmly for a mile each morning and I am truly enjoying his maturity.  We wish we sent him to the training program sooner! I will recommend this program to our friends with dogs.   It is such a benefit in so many ways. The only bad thing is that we missed him but it was well worth missing him because the result is  a fantastic, well behaved, handsome German Shepherd.  He is a special part of our family and now he behaves like one!!
E. Poolman- Kamuela, Hawaii 6-04
Dasko at 19 weeks is doing great.  He is a fantastic puppy, such a fast learner and so willing.  His focus is phenomenal.  We are working on Schutzhund Obedience and it almost seems as if he already knows everything.  He has worked a few times in puppy protection and by the second time he was barking and biting like a pro and carrying the rag back to the car.  We have also been busy with socialization and he is not afraid of anything.  Jack hammers on the street, loud work trucks grinding up cement, joggers, rollerblades, people walking, etc., he is interested but not alarmed.  We are going to a puppy class at the local SPCA to give him some experience.  He gets lots of compliments, everyone is impressed on how focused he is and how fast he learns.  Also by how handsome he is!
At 13 weeks his ears were up and he started getting permanent teeth at 17 weeks.  He is very active.  He herds other dogs.  He has inherited a strong herding drive.  I am enclosing a few pictures.
We are extremely happy with him and feel very fortunate to have such an exceptional puppy.  Thank you both for breeding him and for letting us have him.  Thank Zoya for producing him and caring for him for his start in life.  We love him very much.
P. Rudner , Cypress, California 10-04
Here is a handsome photo os "Duke" when he was a year old.  We think he is so handsome and intelligent.  (Dax & Diamond) We love him to pieces.  Don't know what we'll do with out him.  He is such a great companion, goes everywhere with us.  He likes to ride in our convertible Jaguar and Mercedez, loves everybody.  Thanks so much for connecting Duke with us.
W. & E. Frey, Wailuku, Maui, 10-02
Here is a long overdue follow-up on Fendi. She is now 10 years old out of Ork and Gala.  This is the nicest German Shepherd, in fact the nicest dog we have ever had.  She is just plain sweet.  Very smart, remembers her training.  We live on a dead end road and she just "hangs out", doesn't go anywhere except a few 100 yards to the beach.
She still chases sticks to exhaustion.  Started acting a little more senior citizen 6 months ago, but is ready to do for a ride or walk anytime.  Had her fixed years ago.  Essentially she has never been sick.  AMAZING.  Just plain nice dog.  Enjoy the photos!
A. & J. Boissevain, Sequim, WA 9-04
I just had to call you today to thank  you for selecting my family the most exceptional dog!  Bambi Grace vom Younghaus (born Feb 14, 2004) has exceeded the expectations I had when I bought her at 8 weeks of age.  Since the day we picked her up at the airport in Kauai, she has been a joy.  She is so much fun, learns so quickly that at 6 months of age, she goes out surfing with me!  I really need to get you a picture of us!  She is so intelligent that she is on and off leash obedience trained already and always looks to me to do more!  She is 64 solid pounds and has substantial bone.  I want another one!!!
G.M. DiBartolomeo.  Kauai, Hawaii, 8-04
Xena.  Just wanted to tell you how much I am in love with my new pup. Don't think you could of done a better job in picking one out for me then you did, she is so spunky and fearless, just so cute. Everything is fine with her and the other two dogs now, they occasionally will bark and growl at her, but they know not to hurt her.  She will get in tug of wars with Otis over Frisbee's, sometimes he gives in, but usually not, Well Thanks again for our lovely pup, we sure do love her. Debby
Kele is a perfect puppy in all respects.  He has brought much joy, laughter and happiness into our lives — we very much appreciate your hard work and attention to detail that has yielded such a happy result.  We particularly appreciate the time, devotion and effort you have invested in the puppy class and will work diligently to absorb and apply the lessons you taught.  Each day brings a new appreciation for this special gift we have been given.  What a blessing! T & P. Stuart, Kohala Hawaii
"J" Jango vom Younghaus SchH3 (Omega x Zoya) am proud to announce to you that Jango Vom Younghaus and I have received SchH 3 this weekend with score 285. Schutzhund USA President, Jim Elder scored us 97, 91, 97. We will be competing at this years Nationals in Reno." J. Badillo.California
"Z" Zodi.  (Prince x Nicki) Hey guys! It's been a while since you've heard from us, now here in wonderful central Virginia.  Zodi is incredibly fast and flashy, and typically completes courses at 1/3 to 1/2 of course times.  We tend to have fast, clean runs and first places, or we don't qualify at all.  When we don't qualify, I can usually chalk it up to handler errors.  Besides competing, we have joined a newly formed agility demo team, which is going to be doing very flashy and entertaining routines with agility equipment to music.  We also participate in agility demos whenever the chance arises.  A few weeks ago, we did one at an International Polo Match, and we did a mini weave pole challenge.  Zodi did 30 weave poles in 8 seconds.  She is incredible.  You guys would be amazed if you met her as she is now at 5 years old.  My intensive investment in her as a companion and working partner have reaped untold rewards.  Her vocabulary and ability to communicate amazes everyone who meets her (and I'm talking about very experienced trainers and coaches).  She is incredibly interactive and able to seduce anyone to play with her, even those who don't typically like dogs.  When we run at trials, I get nothing but compliments, awe and envy from the other competitors and audience.  She knows every pet trick in the book, as well as many I've come up with on my own.  She is an amazing animal, and truly, is my heart.  I have learned so much by raising and training this girl!  I am no longer the absolute novice you met 5 years ago.  I've come to believe that in raising her, given her drives and character, I've gained much more than the equivalent of raising one dog.  I know that I will do even better with my next dog, which is almost hard to believe given what an incredible dog she has become (a lot of this has to do with the fact that I will be much more prepared to deal with the drives and nature of such a pup, and won't make some of the mistakes I made out of ignorance the first time around).
Now that I have created the most wonderful dog I could imagine for myself, I plan to enjoy the results of this for as long as she's with me.  I've been doing a lot of thinking about my next pup, years into the future as that may be.  I consider Younghaus to be my breeder, and I can't imagine getting a pup from anyone but you guys.  That said, when the time comes, I will do a lot of talking with you guys to ensure that you once again will be able to select the perfect match from an appropriate litter for me.  I'm guessing that in any litter, even with the consistency you guys manage to achieve, there is variation in drives, and it may be possible to come up with something in this range.  (Alternatively, even with similar fight drives, I now know much better how to deal with that, and believe I could do so if necessary, when the time comes.)  After we've completed this competition season, I'll email you with our earned title's).  Thereafter, I'll probably do so after each season.  I visit your website from time to time, which continues to improve, and I love being able to see pictures of your lovely children.  They sure are growing!  I hope all is well with you guys in lovely Hawaii.  Zodi sends greetings…L. Merigian.
"T" Duke" (Dax x Diamond) "Duke has been with us for only a month and it seems he has been with us all the time.  Adopting Duke has been a fulfillment in our lives.  He is smart, clean, intelligent and a wonderful companion.
He definitely comes from a good breed because he is fun and  made a connection to us as soon as he arrived.  He responds when we call him and has never left our side or sight since he came to us.  He sleeps through the night with no problems next to our bed in his own little bed with an old T-shirt and a chew toy.  We would not trade him for anything in the world.
Thank you, for this wonderful gift."  W.& E. Frey
"Schatzi (Dax x Zoya) is doing great!  She is alert, focused, intelligent and a quick learner.  She is now 12 weeks and 5 days old.
By the way, several people have been impressed with her and have asked where she came from.   We have recommended you highly and referred them to your web site.   Here's a more recent picture of Schatzi…..They're on the floor, not on the bed :)" G. Lisehora
"Rudiger (Dax x Asia)  I gotta tell you too, he is just the sweetest dog in the world.  I love him
almost desperately!!!  I just can't wait to get home and hug him.  And the vet thinks he's just wonderful too.  Our Schutzhund training is on vacation for December.   We'll go back in January.
Aloha!  And best wishes for a wonderful Christmas and 2002." M. L. Foy
"Heidi (Prince & Penne, 5/16/99) is known here at home as Lilly.  Lilly lives for the ball and her squeaky rubber hamburger.  " She has a wonderful, sweet spirit.  She is fiercely protective of me in particular, and is social, yet reserved, with strangers.  I believe Lilly not only brought joy to her "parents", but her "sister" Saydee was able to be weaned off medications she had been taking for two years for hip and digestive problems.  Saydee has not had any episodes since, and is in perfect health.  It is my feeling that Lilly is responsible for making Saydee a happier, healthier dog. It is because of the total satisfaction we feel about our purchase of Lilly, that we are contacting you regarding the purchase of another dog.
Thank you again for our wonderful dog.  Look forward to hearing from you soon!"  J. Williams
"Here are the pix I promised.  Hope you like them.  Kika (Nats x Biene) just turned 1 year and I had her hips x-rayed.  Doc says they look great!  No problem with OFA.  Got to go, Thanks again for a Great dog and Friend."  B. Woodard
Our dog Max, Gatling vom Younghaus (Omega x Biene) is like nothing I've seen before and I've seen many good dogs.  He is absolutely crazy for any toy,  his grip is unbelievable and he comes in like a speeding bullet.  A dog like this should already be titled, he could progress so quickly if I lived closer to a club.  I drive 3 hours one way just to work him in protection.  This dog is a very strong serious dog.  He is always ready and willing to work.  J. Capella, Canada
"All is well with Angus vom Younghaus (Omega x Asia).  I hope all of your puppy buyers are
completely satisfied with their dog as much as I am.  Here are some photo's of my handsome best  friend." D. Sarkine
"You both have been so kind to answer all of my questions about training Luke (Omega x Asia).If you ever would like me to show him to a prospecting puppy buyer I would be happy to meet them.  Luke is such a great dog!  I would be proud to show him as he has the drive, solid nerves and is very nicely structured.  He is all I could ask for and more in a GSD."
S. Masui, Honolulu
"Haku" (Prince x Penne) Hi, just a little update on Haku vom Younghaus,  Date of Birth 05/16/99  Sire: Prince von Haus Antverpa    Dam: Penne vom younghaus.   Haku is doing very well he just finished puppy class and will be starting beginners class in a few weeks. He is such a wonderful dog we feel privileged to have him as a part of our family. Thank you for making it possible.  A. Tavares
"I am so impressed with Zulu (Prince X Nicki) and (Alpha) Dax (Prince X Biene).  They are really super pups.  Zulu who is sound in every aspect of character and drive, Dax who has more drive than anything I've seen and is an excellent mouser to boot.  She is off the scale to anything I've seen before.  The helpers already laugh nervously wondering just how civil she will be when she matures.  It is a fantastic achievement to produce pups of this quality and I would expect you will receive orders for pups when people see the quality of these two."  K. Partridge  –  Tai-Pan Kennels  –  New Zealand
Zolita "Zoe" vom Younghaus (Prince x Nicki).   "At 12 weeks her personality is coming out well and my wife refers to her simply as "THE BITCH!"  She is definitely a confident pup and likes to have her way when she can.  She loves chasing the ball and her retrieve is quite good.   She has a nice bite and corrects her grip very well.  I know this because she usually has her best bites when the item in her mouth is my foot!!  She is a joy to have and I look forward to working with her when she gets older."  B. Ferguson   –  Newman, Georgia
"C. Hansel (Prince X Anja) is doing great.  Lots of prey drive, with an intense side but also the ability to settle down when play time is over.  I've started this puppy training.  He is learning to out and doing a mini-guard between the legs.   He is easy to imprint because he is very happy and easygoing and can have fun.   This hasn't been the case with my past Dutch Bouviers, and I'm liking the difference.  Hansel is doing Phenomenally well!"  P. Teale  –   Sydney B.C., Canada
"Our little puppy Brittania (Prince X Quirl) has grown into a beautiful dog.  Believe me, we could not have picked a better one: she has the best temper in the world and is the smartest dog I've ever seen.  We do have a great time together!"  P. Maillard  –  Kailua-Kona, Hawaii
"We are impressed and happy with the pup you selected for us.  Wolfgang (Omega X Anja) has transitioned well into his new environment, family and our schedule.  He readily adapted to our older dog and our three children.  The care and loving attention you provided during his first 12 weeks are readily evident-Wolfgang came accustomed to many of the sounds, smells, textures and situations in our environment.  His temperament is a plus."  The Lum Family  –  Honolulu, Hawaii
"We are very happy with the pup you selected for us.  Now that is what a German Shepherd pup should look like.   Large bone, erect ears, rich coloring and extreme food drive.  The flight did not bother Elmo (Prince X Ursa) he came out of the kennel wanting to Play!"  W. Choi  –  Honolulu, Hawaii
"Just wanted to let you know how incredibly pleased we are with Zodi! (Prince X Nicki) She is incredibly intelligent, just as I desired and she learns very quickly.  In short, Zodi is exactly the pup I was seeking for so long, and I am just overjoyed to have found you and your kennel and your wonderful dogs.   You have been so gracious in helping me to understand how to deal with such a high drive pup and get her started properly in our home, and also looking ahead to Schutzhund work.  Your consistent willingness to answer my questions so clearly and Patiently makes all the difference in the world.  She is the joy of my life.  Thank You!"  L. Merigian  –  Cincinnati, Ohio
"Anyway, the reason I am writing is that Hanna's ( Prince x Penne) left ear came up today and the right is following (almost there). She is such an exceptional puppy, we are just so thrilled with her.  Smart, cute and an absolute love but still very attentive and watchful. She really shows so many qualities that we never saw in Sadie.  I just had to report to you although I know you know all this.  Aloha" Gale Sansone – Hilo, Hawaii
"Bridget (Gundo x Rastha) now weighs 41 lbs.  The vet expects her to grow to about 85 or 95 lbs.  She is very active, and although I still do not allow her to remain with the bigger dogs all day long or at night, she loves to wrestle with them and is not intimidated at all.  She has been to a few Schutzhund practices (mostly for socialization) and during our last practice I had a helper use a tug to play with her.  Bridget was excellent!  She already had great strength and counters, her drive is very good.  I am ensuring that she remains ball crazy!"  Michael Phillips – Guam
"Jin" (Omega x Zoya) is doing VERY well and has tremendous potential as a working dog.  He lives to play ball and tug the leather rag (at this point he barks, bites with a full grip, and carries nicely).  He is also heeling like a little pro for the ball.  We have been daycaring him once a week to keep him exposed to new dogs, but he has proven to be a little to dominant for his own good-  he refuses to submit to other adult males and has rapidly mastered the art of leg lifting and marking when in their presence. Anyway, just wanted to let you know what was up and say hi.
The Garnhams – Manchester NH
"Hanna" (Prince x Penne)   Just wanted to keep you posted on Hanna's training.  Hanna at 8 months old is without a doubt an EXCEPTIONAL pup.  A very quick learner and the head of her class.  I will have her ready for Obedience Trials in June and two matches prior to that.  I'm betting she will have her CD by August.  What a joy to have such a smart girl.  She is so willing to please, a hard worker, lots of drive and attention and I only have to show her what I want and she does it.  Enjoy the pics. Aloha Gale – Hawaii
"Morgan" (Prince x Ursa).  He is a good dog, bright, and eager.  Then we have the arduous job of restraining his activity while he nags at us constantly with his ball in our lap or dropped on our reclining heads. Everyone loves Morgen and he loves everyone. Postal carriers, kids in strollers, delivery guys, and all the neighbors. Just an all around good dog to have. We are pleased owners… G & C Siegel