Younghaus Working dogs have now Imported the Field Trial and Hunt Test Labrador Retriever
to our breeding program of Working Dogs.
Besides the basic hunting and retrieving work the Labrador does in the field, their great work ethic and intelligence have earned them many prestigious awards and challenging work tasks. To name a few, they have excelled in High level competition AKC obedience, Agility, Search and Rescue, all areas of Detection work (Bomb, Narcotic, Cadaver etc.), Guide dog for the Blind, Assistance dogs, Tracking, Field Trail, Hunting and the list goes on….
The high popularity of the Lab is due in large part to its great versatility combined with a typically easygoing, amiable temperament. Helen Warwick wrote In her 1964 book, The Complete Labrador Retriever, "The ideal Labrador temperament is one of a kindly, outgoing, adaptable nature, anxious to please and non-quarrelsome with man or beast." This statement being true then, is as true today. When it comes to choosing a family pet they win hands down. They are known as very friendly, intelligent, energetic and good natured, making them excellent companions and working dogs.
~~~~~~~~~~~~~~~~~~~~~~~~~~~~~~~~~~~~~~~~~~~~~~~~~~~~~~~~~~~~~

CRUZ X PEARL
REPEAT BREEDING
Bred October 1, 2018
Frozen Semen, Surgical AI
Litter Due Dec. 2, 2018
                                                                                                             Sorry No Puppies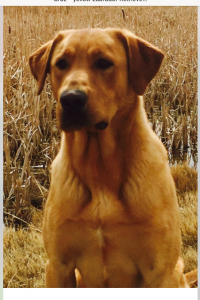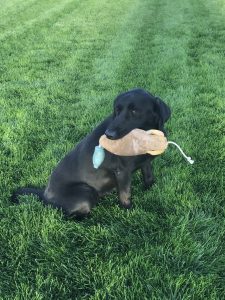 ~~~~~~~~~~~~~~~~~~~~~~~~~~~~~~~~~~~~~~~~~~~
~~~~~~~~~~~~~~~~~~~~~~~~~~~~~~~~~~~~~~~~~~~~~~~~~~~~~~~~~~~~~

CRUZ X PEARL
Bred February 19, 2018
Frozen Semen, Surgical AI
Litter Born April 18, 2018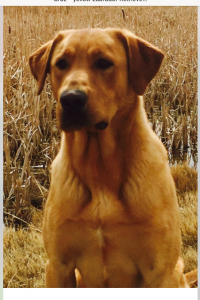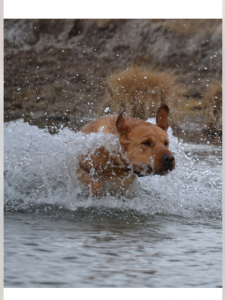 COSMIC NIGHT RIDER  "CRUZ"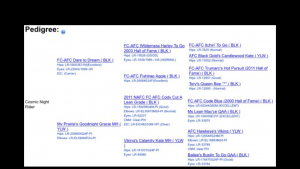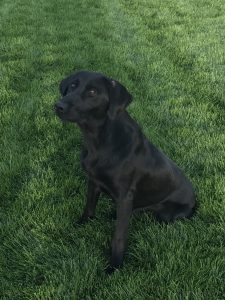 PEARL OF HOPE   "PEARL"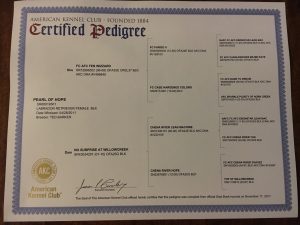 ~~~~~~~~~~~~~~~~~~~~~~~~~~~~~~~~~~~~~~~~~~~~~~~~~~~~~~~~~~~~~~~~~~~~~~~~~~~~~~~~~
PAST BREEDINGS
Risky Dreamer (Tiggy)
"Tiggy" is a 5 year old, 80 lb dark yellow/fox red Labrador who has shown exceptional training abilities. He is trained to the master hunter level but we are not field trialers so have never titled him. He is OFA excellent, as are his sire and dam OFA excellent, has a terrific pedigree, is outstanding quality in the field and as a superior stud dog. He has produced many fine pups that are successful in both trials and as upland and waterfowl dogs.
Tiggy's sire is one of the greatest labs of all time, GMHRCH (Grand Master Hunting Retriever with 1000 points) WR (Working Retriever) Silverbrook's Return to Sender MH (Elvis). Elvis was featured on the Discovery Channel's Animal Planet as a prime example of the working Labrador Retriever.
Tiggy continues his father's tradition of producing superior offspring and being a machine of a retriever. He has a calm demeanor and just loves to hang out. His retrieving is calculated and precise and we very rarely lose a downed bird if he's in the field.
SMG's Aces High's Hunter (Babe)
SMG's Aces High's Hunter, "Babe" (CNAF, CFC, FC, AFC, Aces High III x HRCH Lewis Backwater Showgirl MH). We are very fortunate to have acquired this Outstanding ACES HIGH III daughter to start the foundation of our breeding Working Labradors. Babe is a very tractable, intelligent, extremely fast and a highly driven retriever who lives to work. Babe has intense focus, steady and a great marker. Babe has a wonderful attitude for water with over the top prey drive. Babe always gives her all and has a high desire to please. Babe is a pleasure to train, off the field she is calm, an absolute sweetheart and a loving family companion.
Click here for a Printable Pedigree
NFC National Field Champion
NAFC National Amateur Field Champion
CFC Canadian Field Champion
FC Field Champion
AFC Amateur Field Champion
QAA or *** Qualified All Age
MNH Master National Hunter
MH Master Hunter
SH Senior Hunter
JH Junior Hunter
WCX Working dog Excellent
HRC (Hunting Retriever Club)
GMHRCH Grand Master Hunting Retriever Champion
HRCH Hunting Retriever Champion
HR Hunting Retriever
SHR Started Hunting Retriever
UH Upland Hunter