Product Description
18″ – Traffic Leash
We specialize in custom dog supplies. We are the people who have what you always knew you needed. We have made custom products for all Working dog Sports as well as police departments to help with the public safety. All of our products are made of 100% nylon and
has a tensile strength of 6000 lb per 1 inch of width.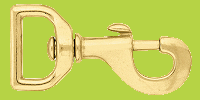 3″ Solid Brass Snap
We bring this experience to all of our Leashes.