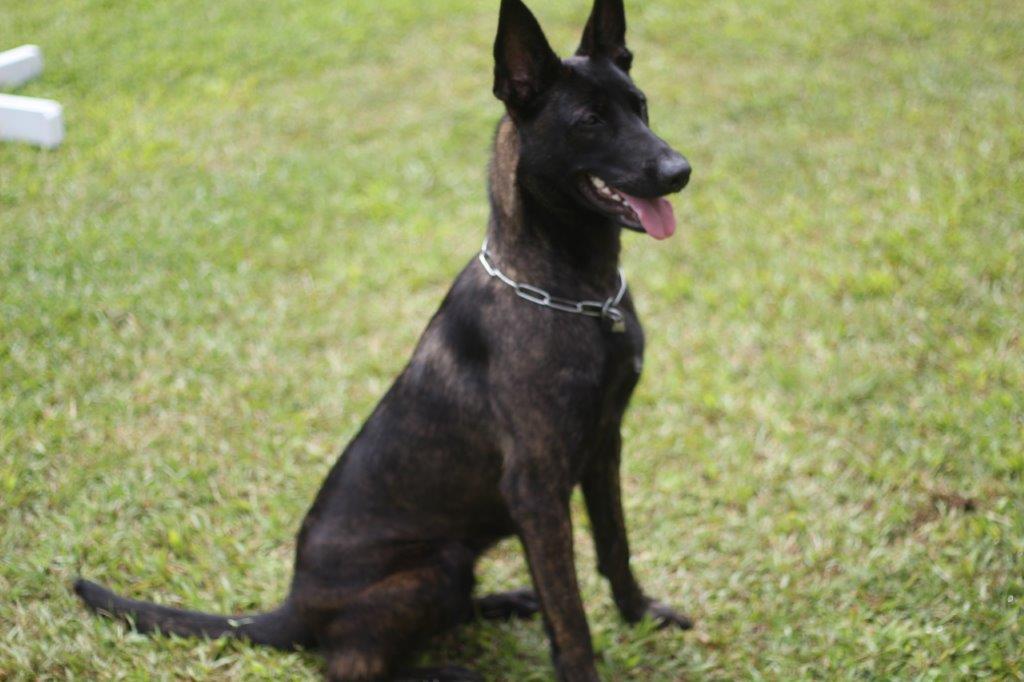 We train all dog breeds from the smallest to the largest.
Obedience training is one of the best things you will ever do for yourself and for your dog. After attending our training classes, you will have a better understanding of your dog's behavior and how they learn. Training will also help to develop a stronger bond and mutual respect between you and your dog.
Training has come a long way from the old style of strict and sometimes harsher methods of compulsive training. Obedience training is now started at much younger age than was done in previous times. Our methods use motivational and positive reinforcement in training. We use the dogs instinctive drives to help create desirable behaviors and then further refine the training as the dogs begin to learn.  All dog breeds benefit from this type of obedience training.
Understanding what motivates dogs and how to work through and change the undesirable reactions and behaviors to desired behavior is a key factor in training.  All to often, people put their own human thoughts into their translation of why a dog is acting in a certain way. Some people also like to have conversations with their dogs when they misbehave. This most often hinders our ability to teach the dogs the behaviors we want them to have. No matter how intelligently they look back at us when we talk to them – they don't speak our language.
No matter how close your relationship with your dog companions, it is often easy to forget that they are another species and not human.  Dogs have their own unique ways of being.  Although very adaptable to our ways of living, it is not the dog's nature to always behave the way we think they should. Behavior that is "normal" for a dog is sometimes repugnant to us. So the better we can communicate in a "language" that dogs can relate to, the easier for us to develop the desirable behaviors we want in our dog companions. We teach you the "language" with our training techniques for a happier relationship with your dog.
In training classes when a dog misbehaves, we often hear "But my dog does everything perfectly at home or I've never seen her do that before!"   What you will learn is that distractions and new environments for your dog will be the biggest obstacle to overcome in your obedience training.  We will teach you techniques on how to block those unwanted distractions. You will then have a dog that will have good behavior no matter what the situation or distraction.
Each dog is different and we progress dogs as individuals in their training. Do not become discouraged if your dog develops at a different rate than another dog. No two dogs are alike. We keep classes small, usually from 7 to 10 dogs. This allows us to give individual attention and instruction when needed.
Our puppy classes are suitable for ages from 8 weeks through 6 months old.  Starting the training of your puppy as soon as they leave their littermates, will minimize undesirable behaviors before they become unwanted habits. Learning basic obedience such as sit, down, stand, heel, and come is appropriate at this age. It will also build a positive foundation for more advanced training.
Socialization is an important factor in dogs of all ages. Puppies should be socialized as soon as possible. This can help you minimize or avoid stressful encounters later on when taking your dog into new environments or experiencing different situations. Unsocialized adult dogs can be more difficult to work with and train, so the earlier the training the easier it will be for you and your dog.
For dogs 6 months and older we have three levels of obedience classes.
These are Basic, Advanced, and Beyond Advanced classes. Beyond Advanced can include any specialized type of training to satisfy your training needs for your dog.
We also have specialized training classes that can prepare your dog for competitions in various trials, such as AKC Obedience and Schutzhund (a sport that involves tracking, obedience and protection)
Most people would like to have a well trained dog, but many of us live very busy lives with work, family and other obligations. We offer private classes for those whose schedules will not allow you to attend regularly scheduled group classes.
In addition, we have a boarding and training program available.  You can send your dog to have it trained at our location in Hilo.
Please visit our TRAINING section of this website to see what best fits your needs.
http://younghaus.com/wp-content/uploads/2016/06/IMG_8783.jpg
682
1024
Belshawv123
http://younghaus.com/wp-content/uploads/2017/11/LOGOGOyounghaus-combined-images-300x80.png
Belshawv123
2016-06-14 15:56:26
2016-06-15 01:59:27
Welcome to Alpha K-9 Training